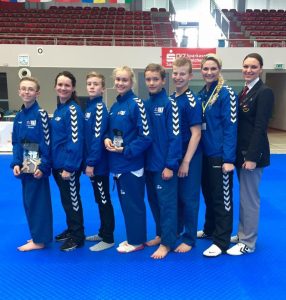 TKI – The Icelandic Taekwondo Federation has appointed a new Head National Coach of Iceland in Poomsae. Lisa Lents, who has previously coached the team as Assistant National Coach together with Head National Coach – Edina Lents has agreed to a new contract, this time as Head National Coach from March 1st 2018.
Lisa has together with her sister Edina trained & coached the Icelandic National Poomsae team towards several A-class & G1 Tournaments medals as well as major Championships as European Championships 2015 in Serbia & World Championships 2014 in Mexico. After 1 year of coaching a bronze medal at European Championships 2015 was brought to Iceland for the first time in Icelandic history as well as Top 5 placements at European & World Championships.
Lisa Lents is 5th Dan holder, former Junior World Champion & Senior European Champion, 8x Nordic Champion, 20x Danish Champion and have won more than 160 National & International titles. She has been on the National Team of Denmark for 8 years & has been coaching students of all levels; children, adults, elder, basic & high competition level.
Lisa is the 2nd women in Denmark to become World Taekwondo International Referee & is currently a part of the Danish Referee Board & among the responsible of referee education. She is also World Taekwondo Para International Referee & Taekwondo Humanitarian Foundation Ambassador.
Lisa has been recognized internationally as a global Taekwondo ambassador – appointed by WT as World Taekwondo Goodwill Ambassador & member of WT Women Committee as well as Kukkiwon Advisory Committee/Technical Committee Member & World Martial Arts Masterships Honorary Ambassador.
Lisa is very excited to start a good cooperation with the new TKI board & is very happy to continue the great development that was started back in 2014.
She is very happy and excited to come back to Iceland and would like to express her gratitude to TKI.
There will be an open National Team audition on Friday March 9th, where everyone with the interest in Poomsae can apply. The first Icelandic National Team Seminar with the newly elected team will be held from Saturday 10th – Sunday 11th 2018.
More details here:
ICELAND NATIONAL TEAM SEMINAR
9th-11th of March 2018
FRIDAY – March 9th – Open Audition for National Team
18.00-20.00 – Ármann
SATURDAY – March 10th – New National Team Training in Ármann:
11.00-13.00 Training 1
13.00-14.00 Lunch
14.00-16.00 Training 2
16.00 – 16.30 Snack Break
16.30 – 18.30 Training 3
SUNDAY – 11th March – New National Team Training in Keflavík
09.00-12.00 Training 4
INFO ABOUT THE AUDITION – MARCH 9TH
Old article about audition:
I would like to invite everyone who has an interest in Poomsae and wishes to be considered for election for the National Team & Talent Team.
Talent Team coaches will also be appointed.
I'm looking for people who are interested in competing in Recognized Poomsae, Freestyle, Breaking Challenge Events & Beach Taekwondo.
The audition is open for everyone who fulfills the following requirements:
Requirements: National Team: Minimum 12 years old + red belt, all ages categories
Requirements: Talent Team: Minimum 12 years old + green belt, all ages categories
COMPETITION CATEGORIES:
Cadet Division 12-14 years
Junior Division 15-17 years
Male/Female Under 30
Male/Female Under 40
Male/Female Under 50
Male/Female Over 51
Pairs + Teams
Freestyle Under 17
Freestyle Over 17
Freestyle Pairs + Teams
Beach Taekwondo
Breaking Challenge Events; High Jump Kick Breaking, Jumping Multiple Breaking, Spinning Kick Breaking, Free Set-up Breaking
The National team & Talent Team will be elected and announced on TKI's website & Facebook Friday the 9th at 9.30 PM. There will be National Team training the day after + Sunday.
The plan for the Talent Team will be released by the new Talent Team coaches.
To sign up you have to fill out some information and send 1 photo of yourself to lentstaekwondo@gmail.com latest on Wednesday March 7th at 6PM.
Name: XX
Age + date of birth: 31 years / 15.12.1986
Belt color +belt grade: Green Belt / 7th Cup
Which disciplines are you interested in competing in: (Poomsae/Freestyle/Breaking Challenge/Beach Taekwondo)
Election for National Team or Talent Team? XX
1 Photo